Buy your scanner hardware from anywhere
Our Finale Inventory barcode scanning application is hardware agnostic. We do not require you to use any specific make, model, or brand, nor do you have to purchase your hardware from our preferred vendors.  As long as your hardware meets the minimum OS and Hardware specifications you should be able to use it with our application.
We do have a list of preferred hardware vendors for you to choose from. They stand behind and service the products that they sell. They provide outstanding customer support, and pre-configure and install our software so they are ready-to-go, out of the box.
If you need assistance selecting a scanner, the link below contains a list of other Android-OS-based scanners and Windows mobile OS-based scanner options from a recommended non-affiliated hardware provider.
Click here for Finale's Officially Tested and Recommended devices
Preferred Hardware vendor scanner options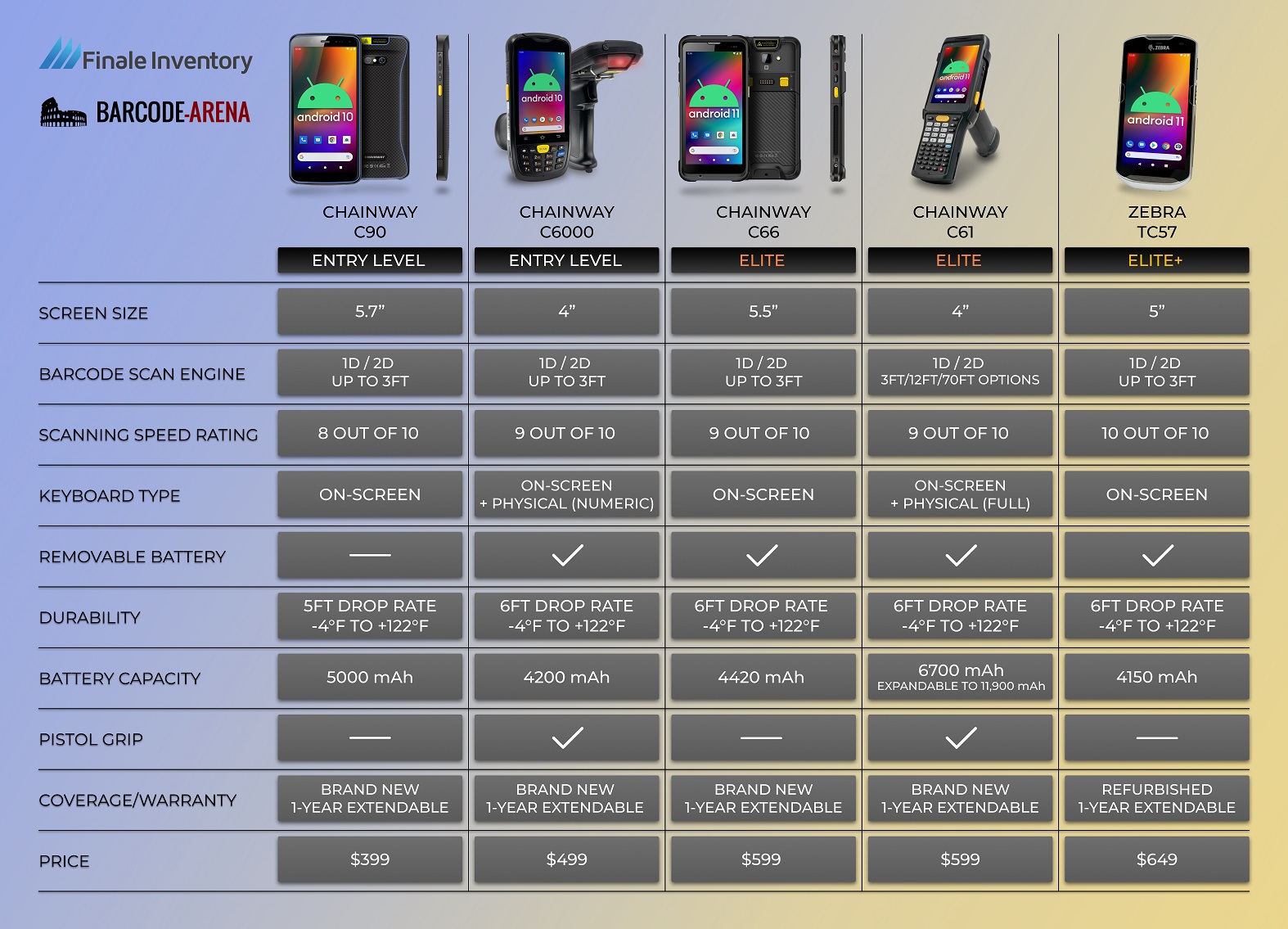 Contact Info: https://www.barcode-arena.com/finale-inventory.html
Barcode Arena Inc.
Louis Fruchtman
main (770) 973-2862
fax (770) 579-4484
sales@barcode-arena.com
If you use PROMO CODE: finaleinventory4life at checkout you will receive an additional approximate 10% discount with the above-preferred vendor.
Note that Finale Inventory GOLD level subscription plans and above have mobile barcode scanner application support and features but do not come with any hardware. You must purchase all required hardware yourself.  If you already have scanner hardware, you may be able to use it. You may leverage any Android phone, tablet, or scanner device running KitKat v4.4 or higher, or a Windows-Mobile OS* based barcode scanner running v6.1, 6.5, or 6.5 Embedded. 

Our Mobile scanning application will not run on any iOS device, but you may use the mobile scanning application on an Android OS-based device, and it will communicate directly to your Finale Inventory cloud application via WiFi and is thus compatible with users who use a Mac or Windows PC. The Mobile Scanning application is independent of the computer and operating system and web browser you are using.
You can use our mobile scanner application with almost all Android-based scanners. This is separate and not related to the computer operating system you using.
Please see this help article for our recommended barcode scanning hardware options, minimum requirements, and preferred vendors: https://support.finaleinventory.com/hc/en-us/articles/115007243387
* We have supported the Windows Mobile OS-based scanners in the past. We are phasing out support for these devices. We call them LEGACY scanners. We highly recommend you use Android-based devices. Microsoft has completely ended all support for Windows Mobile OS and the Windows Mobile Device Center software that is used to connect to them.  If you are using a Windows Mobile OS-based scanner and you do not use WiFi to sync and connect you must have the following Windows PC and OS and Browser. If you are using WiFi to sync the mobile scanner you do not need Windows PC or browser to sync the scanner.:
Computer: PC or Virtual PC running Windows 7, 8.0, 8.1, or 10.0 
Browser: Google Chrome browser, 64-bit preferred
WMDC: Software not available anymore