How To Push Stock Levels to Marketplace
As you make the move to go live with Finale, your inventory levels should be correct and ready to be pushed to all of your marketplaces.
There are two necessary steps to ensure stock levels are pushed from Finale to your marketplace correctly:
Confirm Product Lookups

Configure Push Stock Levels Integration Task Settings
Confirm Product Lookups
The charts below should look familiar as you have navigated through the onboarding academy. In simplistic terms, the product lookup (marketplace SKU) should be pointed to the correct product and have the appropriate store association.

If the store association is not identified for the marketplace listing (lookup), then Finale will NOT push stock levels to that listing for that store. The easiest way to remedy this problem is to perform a spreadsheet import to add those store associations.
Configure Push Stock Levels Integration Task
In order to configure your push stock levels task you will need to navigate to your integration tab of your Finale account and select the push stock task from the desired integration. Please see image below.

This will navigate you to your push stock task page for this particular integration where you will configure your settings.
The task run mode controls the frequency in which the task runs. Most users select automatic since they want stock continuously pushed to their marketplaces. The manual option would require the user to select "run task now" from the integration page when they want stock pushed, and the disabled option would not allow the task to run.
Quantity Selections
Please note that all the settings described below can also be configured on the product level using the product detail page. The integration settings are the global settings for all your products unless you specify an alternative approach on the product level for specific products.
Finale recommends you use the integration settings as your most-used approach. Then, configure the settings for the products that don't align with these settings separately.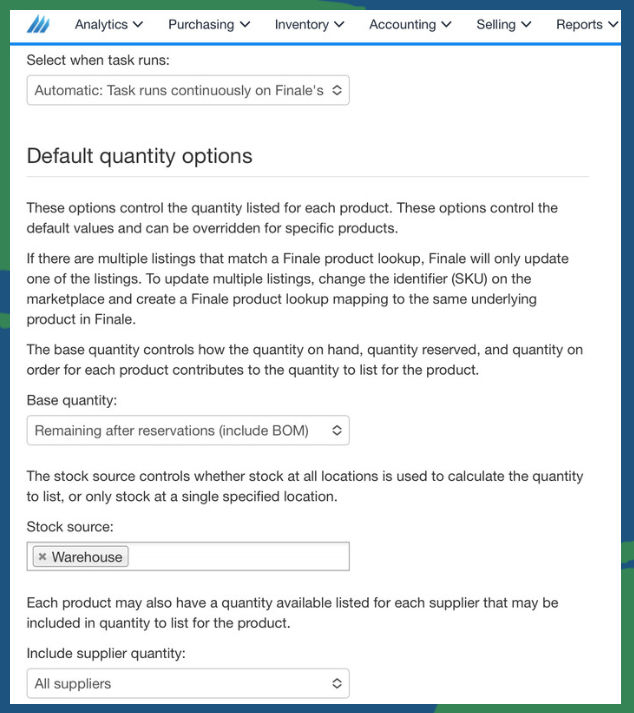 The base quantity selection controls what stock category (i.e. quantity on-hand, reserved, on-order) will be pushed and if you want to include or exclude the BOM quantities. Most people by default leave the default setting, "Remaining after reservations (include BOM). The remaining units takes into account quantity on hand minus any stock reservations on open orders to prevent over-selling.
The stock source controls which location stock is pushed to this marketplace. Often times, users elect to have all their central stock for fulfillment in their general warehouse, segmenting other stock, like unsellable inventory or FBA stock to other locations. This allows you to only push stock from the location that is relevant for this marketplace.
The supplier quantity can be included in the stock total if you elect to use this option. This can be helpful for drop-ship items that you don't carry any quantity on-hand.
The next set of setting options are mostly configured on the product level versus the integration, or global level. Most users do not make any changes to the following settings. Please see the image below for additional setting options and descriptions.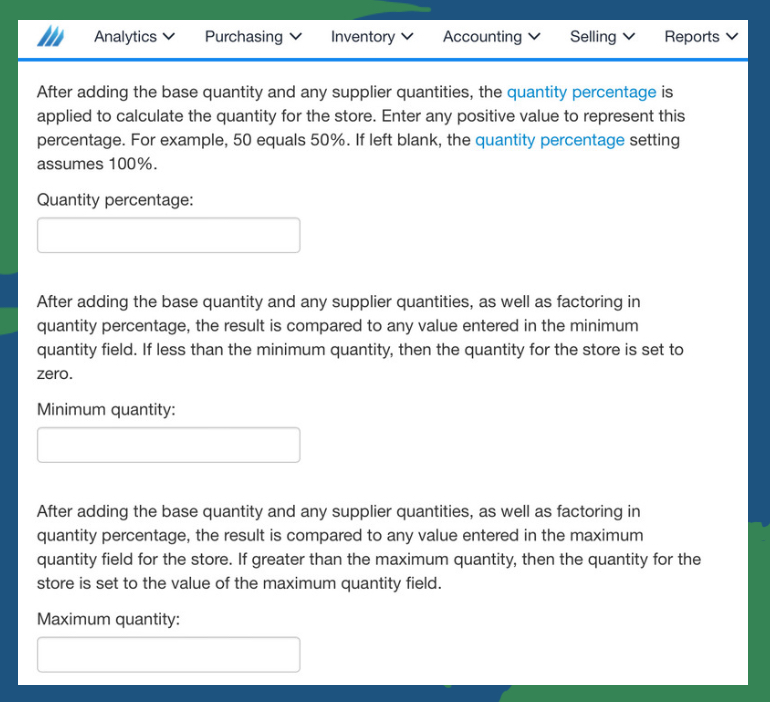 The last series of settings are specific to certain integration options. These are not present on all integrations.
Most users elect to leave these settings unchanged from the default option unless your marketplace's daily API rate limits prevent Finale from updating all product lookups. This is usually only a problem if you are dealing with an extremely high number of product listings. Most users do not experience this issue.