If you're a dropshipper or sell using Just In Time inventory management, one powerful feature to use is Finale's ability to pull in Vendor Supplier Feeds into your account via FTP.
Finale has the ability to pull in the supplier FTP file (supported delimiters are Comma, Semicolon, Space, Pipe, and Tab). The system has a list of standardized feeds already configured ready to use, but Finale also supports connecting to any FTP vendor file not already built by our team.
What does it do?
Customers that have a need to list using the quantities available to them from their suppliers will benefit most from this feature. When Finale pulls in an FTP File, we have the ability to update the following supplier fields:
Supplier Quantity Available
Supplier Price
This is useful for pushing quantities to the marketplace including your supplier's quantity. Learn more about this here.
It is also useful to keep your vendor prices up to date for purchase orders.
How do I use FTP Supplier Feeds?
First, you'll need to navigate to your integrations page using the header navigation bar -> Integrations. Here, scroll to the bottom and use the bottom for "Add new integration". Next, scroll until you find the integration for your preconfigured FTP Vendor feed (View the list of vendors here) or if your vendor is not on the list, choose "FTP Supplier Integration" (below)
If you're using a preconfigured vendor feed, such as Automatic Distributors, You'll just need to follow the on-screen instructions to connect to your account.
For generic FTP suppliers (not preconfigured), you'll need to populate the corresponding data: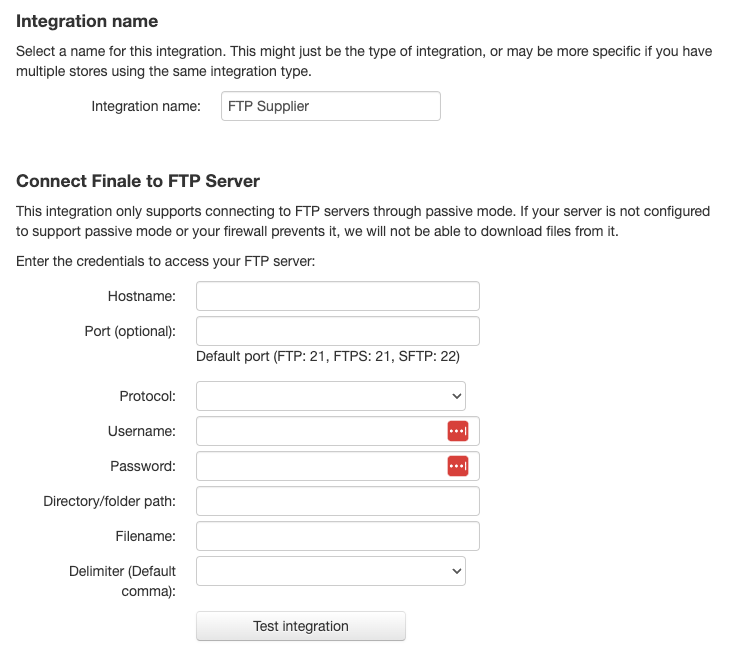 Once you successfully test the integration, you'll be able to configure the task itself.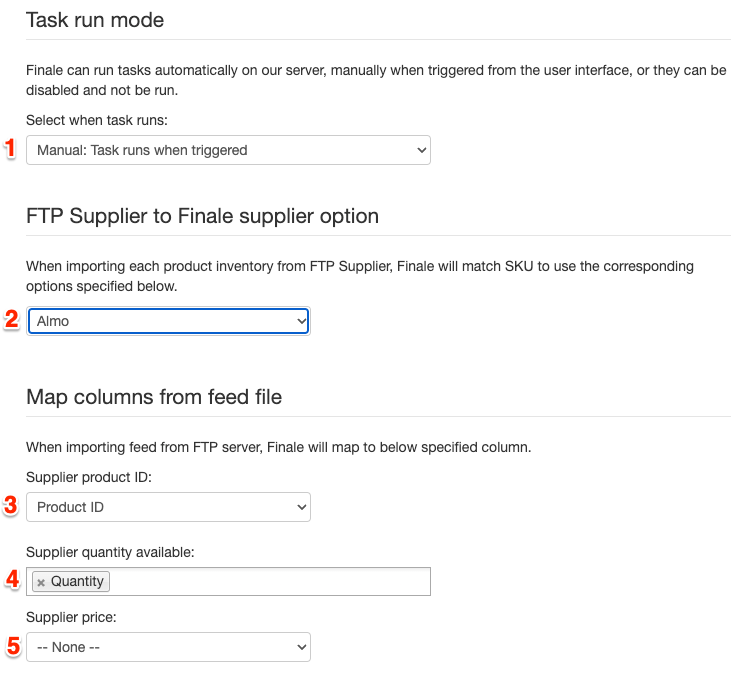 Choose the frequency that the task runs
Choose the supplier that will be updated in Finale
Map what column on the import will correspond to the Supplier Product ID field in Finale
(Optional) Map what column on the import will correspond to the Supplier Quantity Available field in Finale
(Optional) Map what column on the import will correspond to the Supplier Price field in Finale