What is a USB/Bluetooth scanner?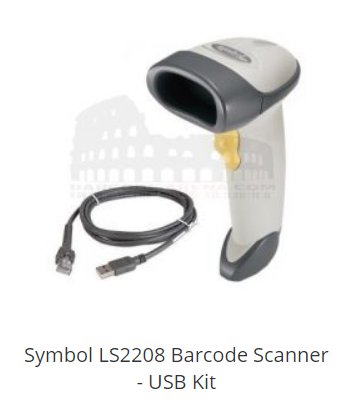 * Use of a USB/Bluetooth scanner is supported by all Finale Inventory Software Subscription plans.
Notice that this type of scanner above does not have a screen that you can see the data that you are scanning, or to prompt you for what you should scan or do via a software program with on-screen instructions. These scanners only have ONE function and that is to allow you to scan a barcode and type the content of the barcode to your computer screen where the cursor is located. The USB/Bluetooth scanner is called a tethered scanner because you must stay close to a computer to use them. They will not operate without the use of a computing device like a PC/Mac/Tablet. They cannot perform complex operations the way a software program will do. They are useful in warehouse operations for scanning in a serial number, lot number, batch number, part number, order number or tracking number in a single data entry field for recording or searching. This type of scanner can be used on Finale Inventory's Stock Change and Stock Transfer Screens on all Finale Inventory subscription plans.
This type of scanner is not supported by Finale Inventory's advanced Order fulfillment, Picking and Packing, Wave Picking operations and inventory and warehouse management features like Receiving, Stock Takes, Stock Transfers, Learning Barcodes, Change Item State features.
These types of activities required guidance and interactive feedback with the user which is accomplished with our Finale Data Collector, mobile barcode scanner software solution. This is a wireless, mobile solution that runs on the preferred Android OS platform or the legacy Windows Mobile OS software platform. See more details about the Mobile Scanning Device below.
What is a Mobile Scanning Device?
Below are our two most "Bang for the buck" preferred Android-OS-based devices. These are not the only options available.
Buy your scanner hardware from anywhere
Our Finale Inventory barcode scanning application is hardware agnostic. We do not require you to use any specific make, model, or brand, nor do you have to purchase your hardware from our preferred vendors. As long as your hardware meets the minimum OS and Hardware specifications you should be able to use it with our application.
We do have a list of preferred hardware vendors for you to choose from. They stand behind and service the products that they sell. They provide outstanding customer support, and pre-configure and install our software so they are ready-to-go, out of the box.
If you need assistance selecting a scanner, the link below contains a list of other Android-OS based scanners and Windows mobile OS based scanner options from a recommended non-affiliated hardware provider.
Preferred Hardware vendor scanner options
* Use of a Mobile Scanner Device and Finale Data Collector software solution are only supported on GOLD level Finale Inventory software subscription plans and above.
Notice that the Mobile scanners may have a touch screen or keypad and color screen and stylus. This type of scanner has WiFi and is NOT tethered to a PC or Mac. It is a mini computer running Android OS or Windows Mobile OS. We have our dedicated software program called Finale Data Collector that runs on this device that provides advanced barcode scanning capabilities to help make your business operations run smoothly and more accurately.
Below are sample screenshots of the mobile scanner app and the operations that are performed wirelessly from the scanner.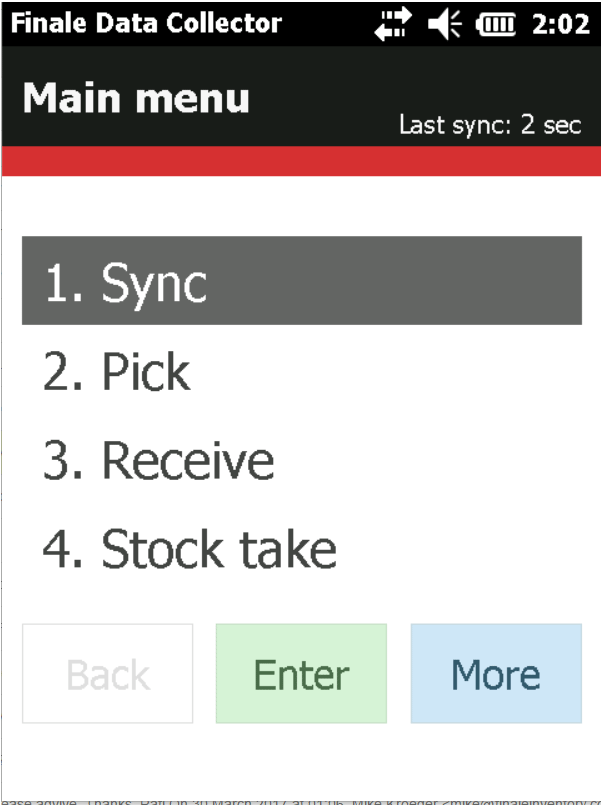 The Mobile Scanner provides advanced support for making sure your Stock Levels are accurately recorded by scanning items into and out of the warehouse at the storage bin level. The software validates all order picking and packing operations against the order, providing SKU level validations for Picking too many, too few, incorrect item/(size/color/style/variant), etc. The software will warn the user if they are picking beyond the current stock level of availability for the item in a specific location in the warehouse. It will guide your users to the correct spot in the warehouse where the item is currently located. It will record the appropriate serial number/lot #/batch #/Expiration date picked.
To see more about the advanced features of the Finale Inventorys's mobile scanning solution, what the how-to videos here.