If you have not downloaded or installed the Android app to your device, follow this link to obtain the software:
https://support.finaleinventory.com/hc/en-us/articles/360023638594-Direct-download-link-for-Android-OS-App-Finale-Inventory-Barcode
First things First
You should have a Finale Inventory account subscription plan that includes the use of the mobile scanning application. This is a Gold level subscription plan or above. Please see our pricing plans with their capacity options here: https://www.finaleinventory.com/pricing-signup
Contact service@finaleinventory.com to upgrade your existing plan if you needed.
Step 1: Connect your Android Device to WiFi.
Step 2: Run the Finale Inventory Barcode App.
Step 3: Sync the app with your Finale Inventory account.
Click on 1. Sync on the Main Menu. Enter your account name.
Your account name is in between the slashes on your Finale Inventory Log in URL For example if your web browser URL for your account is https://app.finaleinventory.com/ACCOUNTNAME/ enter the account name in lower case with no spaces when the scanner asks you for your account name.
Enter your username and password you log into Finale Inventory with on the web.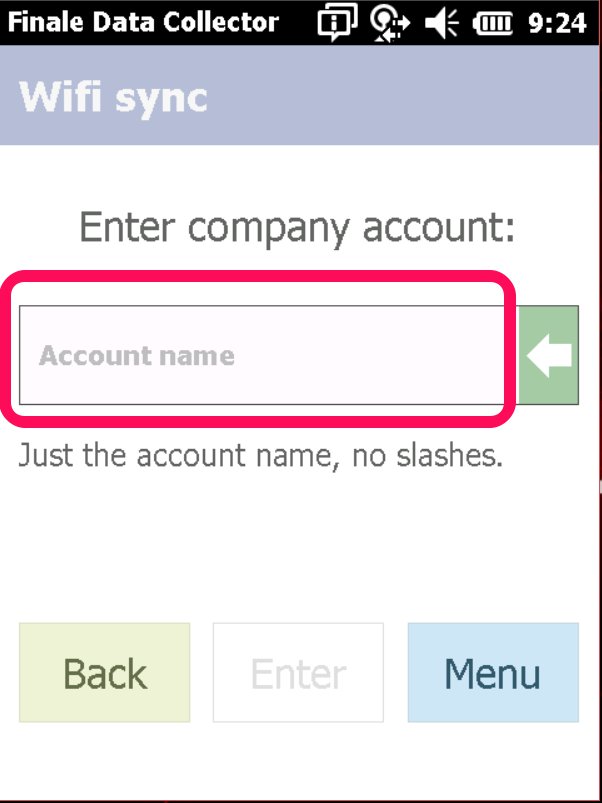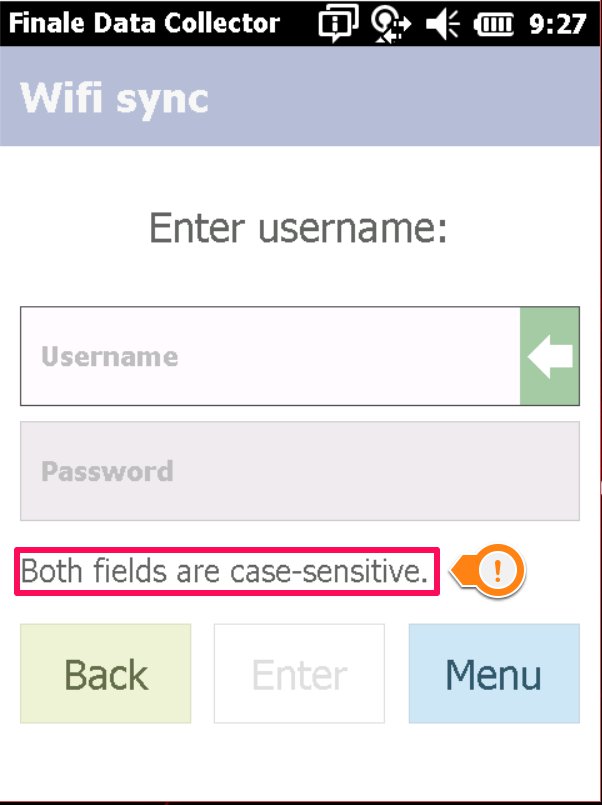 IF you have problems typing your password, you should go to 14. Settings, and change setting #54 Show password typing to YES.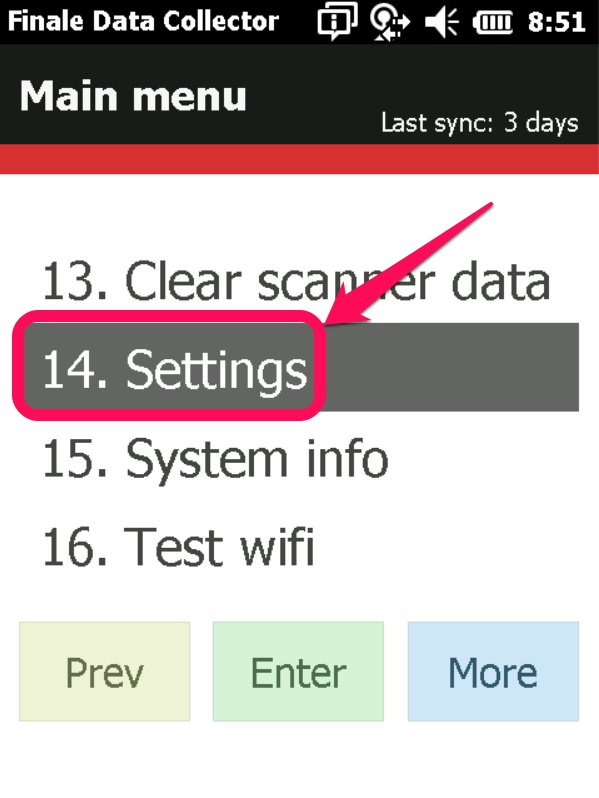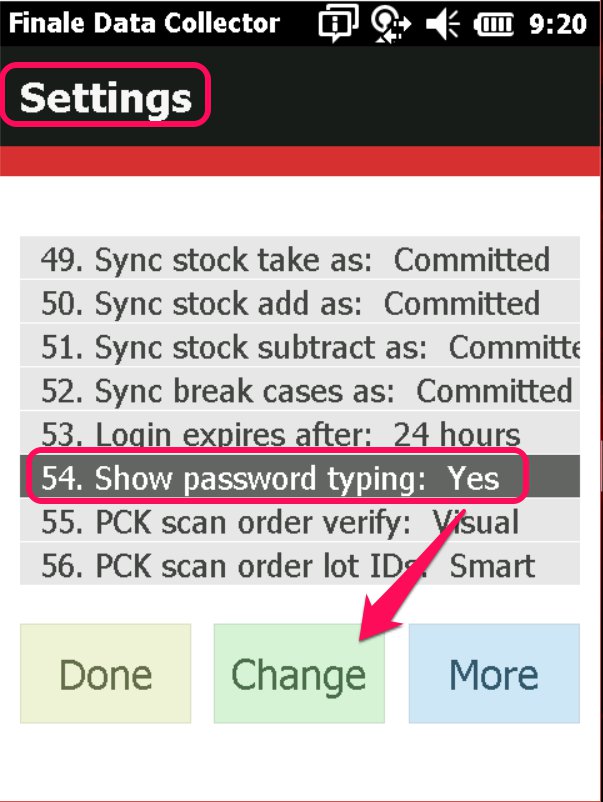 If you were successful in typing in your Accountname, Username, and Password you will see this screen, press the Sync button!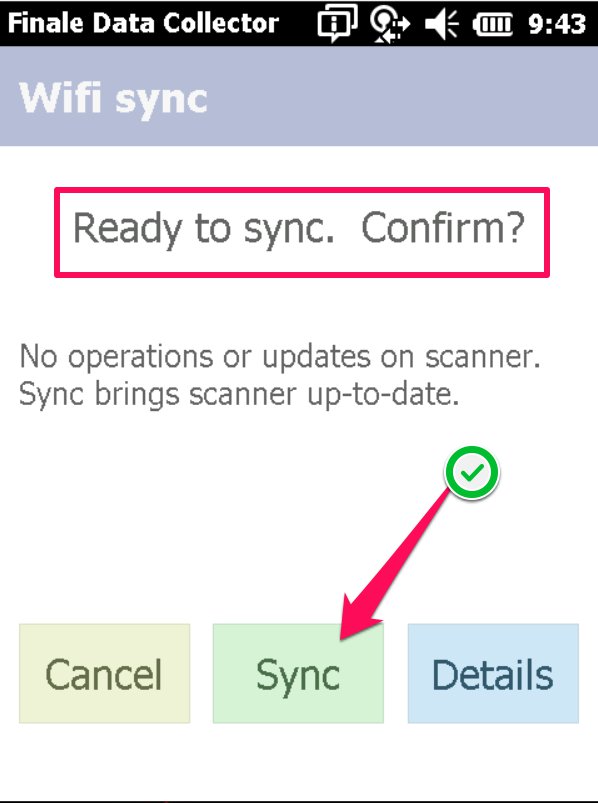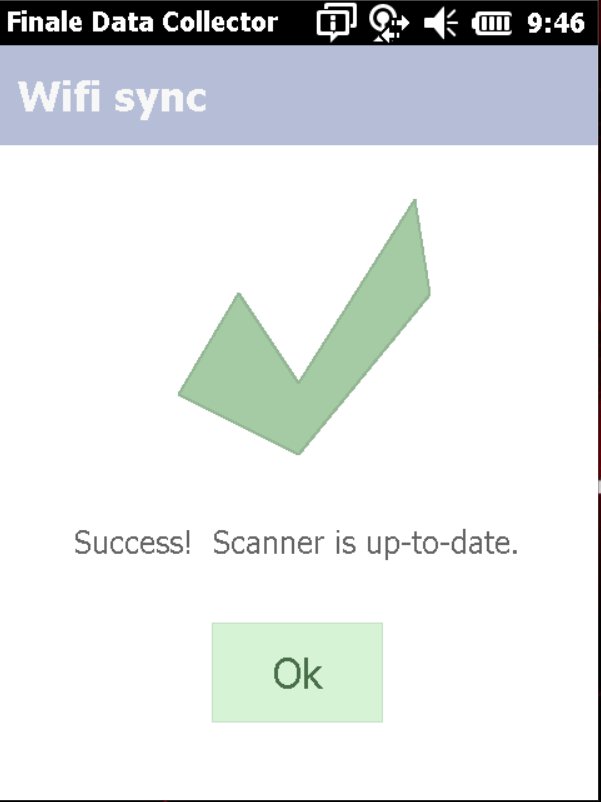 Once you have successfully connected to WiFi with your account, the scanner will cache the account name and username for 24 hours. You will have to type your password in again if the scanner loses connection or power.
You are done! Now that you have synced your device with your Finale Inventory account, it will now contain all the information about your Products, stock levels, open Purchase orders, and Sales orders.
BEFORE you use the scanner for the first time, Please review this article to make some Setting changes
on your scanner: What are the normal settings for configuring the mobile scanner?
While the Finale Inventory Barcode App syncs over Wifi, it is not real-time sync. It is an on-demand sync. You must press the Sync option to transmit all transactions you have completed on your scanner or device to have it update your Finale Inventory account. You must also sync the scanner before you perform operations on the scanner so that it pulls down the latest information from your Finale Inventory account.
If you have successfully installed your mobile scanner and the Finale Data Collector software, and are wondering how to Receive a Purchase Order Shipment or Ship a Sales Order Shipment with the barcode scanner, make sure the following conditions are true in order to see the transactions on your scanner. For Purchase orders and Sales Orders to be synced to the scanner the following conditions must be true:
1.  The Status of the order must be "Committed"
2.  The PO must have a Destination Location or the SO must have a Origination Location selected.
3.  The Order must have at least one product id added to it with a positive order quantity(not zero).
4.  The Order must have not been shipped complete.  There must be items left to ship.  If the Order
    has all of it's items shipped, there is nothing left to pick.
For a more expanded discussion on the Finale Data Collector software and how to use it, visit our Barcoding Documentation.
Learn about the Finale Data Collector Software Settings to customize how the scanner behaves
Here are some notable differences in the Android-OS version from the older legacy Windows Mobile OS version:
Top menu bar on screen is no longer a Screen orientation swap between portrait mode and landscape mode. Android automatically rotates the screen for you when you turn or rotate your device
The top menu bar is a soft link to the Android on-screen keyboard. In order to type into a quantity field or scan field or any data entry field, you must invoke this on-screen keyboard if you do not have an Android device with a built-in keyboard.
There are soft keys on the bottom of the screen for Up and Down arrows and the Tab key. These keys are missing from the Android onscreen keyboard so we added them to the bottom of the screen.